Book Your FREE Initial Consultation Now!
or Call (06) 8760 312
RESULTS -The Competition Management System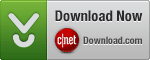 Download your own copy of RESULTS Now or Download from us. -Right Here!
Current Version: 1.05 (new versions will overwrite exiting data -Contact us to avoid this).

Donate -So you can use RESULTS Guilt Free and contribute to it's development.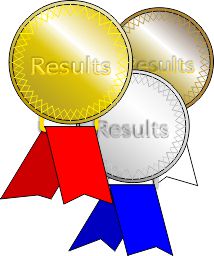 Use RESULTS -The Competition Management System to track and manage your whole Show. Record all Entry Classes. Add Competitors and their Entries, Produce Judging Sheets, Record Scores and automatically calculate Awards and prizes. This Package will eliminate the mass of spreadsheets and documents that normally are associated with competitions. Keep all your competition information Centrally located and available through your local network, simultaneously to multiple users.
You'll be amazed at the time and effort saved, how quickly results are produced and the simplicity of managing your Competition!
---
What Competitions can RESULTS Manage?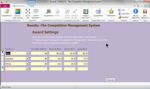 Almost any!
RESULTS is flexible! You can configure RESULTS to use a "Set Achievement Level" scoring system e.g. there can be more than one Gold Medal per Class if the entries match or exceed the standard for a Gold. Or you can use the Olympic games style Gold / Silver / Bronze or First / Second / Third place awards.
RESULTS has been built to handle judging of Wine, Beer and Liqueurs but can be quickly configured for many other types of Competition. Just set you own "Sections" e.g. Jams, Pickles or Novice, Junior, Senior, Open...
RESULTS Picked for 2015 NZ Nationals

Hawke's Bay Amateur Winemakers and Brewers Club have announced that RESULTS is being used to manage the 20th National Championships to be held in Hastings in October 2015. We wish all entrants well with their entries. Visit their website www.wine-and-beer-hb.org.nz to find out more about the 2015 National Champs.
2014 New Zealand National Championships
RESULTS managed the successful NZ Federation of Amateur Winemakers and Brewers National Championship Competition held in Dunedin in October. There were 789 Entries from 100 Competitors. 441 Medals were won with 215 Bronze, 140 Silver and 88 Gold's. Congratulations to everyone involved!
Users Say:
"I have used this program for our club competitions of about 80 entries, however it will operate very easily with hundreds of entries. It is very simple and logical to use and once all the data relating to each entry is loaded at the start of the programme it only requires marks awarded at judging to complete the sequence.
Results will sort entries by clubs, best of class for each class, total number of points per club along with many more reports. It will even produce winning certificates with name, club, class, etc already printed onto each certificate. By loading the competition name and date etc. at the start this info will then be on the design of the certificate-Very clever. It could also be used for flower shows or dog shows etc. I consider it cheap to organise and control the results of a big wine judging competition."

-Maurice Gray -Secretary, NZ Central Region Judges Guild of the NZ Federation of Amateur Winemakers and Brewers Clubs
"With the competition we ran with around 800 bottle entries RESULTS has been a very valuable tool; data entry was easy but as one would expect with so many entries took quite some time; bottles are able to have random numbers. Marks for each entry was a breeze and you are able to check on RESULTS reports in just about any way you can think off i.e. by Class / Club / Individual / Best in Class etc. The reports are easily exported as PDFs etc; there is also an option for printing awards."
-Bill Houston -Convener, NZ Federation of Amateur Winemakers and Brewers Clubs -2014 National Championship.
What Competitions can RESULTS Manage?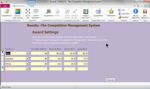 Almost any!
RESULTS is flexible! You can configure RESULTS to use a "Set Achievement Level" scoring system e.g. there can be more than one Gold Medal per Class if the entries match or exceed the standard for a Gold. Or you can use the Olympic games style Gold / Silver / Bronze or First / Second / Third place awards.
Competition Settings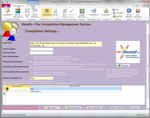 Enter your Competition Name and details, define the Sections and Classes you wish to Judge or use the default list provided. Load you own Logo so it will print on the Reports and Certificates. You can even adjust the score required to achieve Gold, Silver and Bronze medals if you choose "Acheivement Level" setting.
Grouping
RESULTS allows for your own custom grouping to suit your Competition or Show. Suggestions include Country (for International Competitions), State, Region or City (for National Competitions) or Club or District. You can add any group you wish then each entrant is allocated to one of the selected groups, its so easy.
Competitors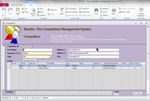 Simply type in the Competitors Name / Company, Address and details. Enter each competitor only once! No more repetitive typing and double-ups!
Entries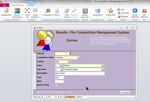 Each Competitor's entries are recorded separately with the Competitor selected from a full List. RESULTS can automatically generate unique Entry Numbers sequentially, Randomly or these can be manually entered form your own list if you prefer.

Once All entries are received and entered in RESULTS a single Click will print out a "Judges List" for each Class detailing the Entry numbers and their ingredients. All Competitor details are suppressed for fairness and fully blind judging.
Scoring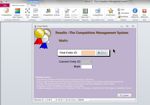 Once the Judges have completed their evaluation and allocated a Score this must be recorded against each entry. RESULTS makes this dead simple and very fast. Just type the unique Entry Number into a search box, press enter, then enter the score! RESULTS will have located the entry almost instantly and be ready to accept your Score entry. RESULTS will Beep if the entry is not found or has already been allocated a mark to prevent errors such as typo's etc. No Competitor information is displayed during Bottle score entry, to further maintain impartially.
Best of Class and Best of Show
RESULTS lists all Entries from each Class with the highest score. Should there be Two entries in the same Class with the same score, the Judges would usually select the Best by re-evaluating these. The Best is then marked as such, for later printing of Certificates or further external processing like engraving.
Certificates
RESULTS has pre-formatted Certificates ready for printing including Bronze, Silver, Gold, Best of Class and Best of Show Certificates. If you want to use your own design Certificates or you can export these lists for use by an external Printing Contractor, Engraver or reformatting with your own graphics application.
Reporting:
RESULTS The Competition Management System has many detailed reports that provide an insight into the competition and the results. Additionally there are also many unformatted raw data lists available for merging with Word / Excel or Copying and Pasting into your own reporting application.
Will I need training? / Is it hard to use?
RESULTS has been designed to be easy to use and does not require training. Simply download, install and start entering your Competition details... The RESULTS System features the standard Microsoft Office user interface, so if you have used Word or Excel then you will be right at home.
I am running a Wine Show -I don't need the Beer or Liqueur...
That's fine, just enter the Wine details. You can delete the sample Beer and Liqueur sections. You can run your competition with any single Section on it's own or add and define your own Sections and Classes.
History:
RESULTS was formally called BLAWCS an acronym for Beer Liqueur And Wine Competition System. This system was used to run the New Zealand Federation of Amateur Winemakers and Brewers Clubs National Competition in Gisborne in 2009. BLAWCS was used at the Central Regional Amateur Winemakers and Brewers Competition in 2010 and at various smaller club competitions since this time. BLAWCS has undergone considerable and repeated enhancements and additional Flexibility has been added to cater for the various needs of other shows and competitions and is now released as RESULTS!
---
Great, I need it! Where do I get RESULTS?
Download your copy of RESULTS The Competition Management System now. The Download is Free.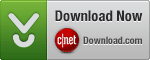 or Download from us. -Right Here!
The Program can be used straight away but if you use it for a competition please make the recommend donation to assist cover the extensive development time that has gone into making RESULTS what it is today and fund additional improvements for the future.
Donate Now and help development continue...
For use by Amateur Clubs and Societies; a donation is required to assist in the ongoing development of this application. We suggest $50 to $100 per competition would be reasonable, although you are welcome to set the value at a higher level based on the benefit you gain through it's use. (Suggest $1 per Competitor.)
Commercial use is Licensed and RESULTS is not to be used or copied without written permission. The price is negotiable (We suggest $500 to $1,000 per competition) -Please Contact us to discuss your needs.

* Just click the Donate button above to add your donation. All donations gratefully received.
More information
Contact us with your questions - We will attempt to reply to all...
Q: "Last year (for our Regionals) I printed the RESULTS certificates using the RESULTS program, but we also had cards specially printed with a colourful background... I then re-entered all the winners names for each class, be they gold, silver of bronze, and had another (larger) certificate for BIC... - Is there a way of using our own printed certificates, but getting the results program to print the names of the winners, class, and level (gold, silver or bronze)?
Cheers Dennys"
A: Yes, you can use RESULTS to over print a pre-made image or Certificate. First Select the Awards list from the "Exportable Lists" group on the Ribbon. Then Select all rows. Copy these then paste into an Excel Spreadsheet and save it.
Open a new document in Microsoft Word, click on Mailings Tab and set up a "Mail Merge" using the Spreadsheet as the data-source for the "Select Recipients" button. You can add any fields available and then format as desired…
System Requirements:
OS: Windows 10, Windows 8.1 / 8, Windows 7, Windows Vista.
Free Hard Drive Space: ~20MB
Microsoft Access 365 (included in Office 365 Professional and Business editions), Access 2019, Access 2016, Access 2013 or Access 2010 -full version or Free Runtime - Click to Download Service Pack 2 (both required)

Optional; Microsoft Office for layout and reformatting of reports if required.
---
ProcessIT Limited is a Registered member of:


---