Book Your FREE Initial Consultation Now!
or Call (06) 8760 312

ProcessTools - Microsoft Access Tools for Developers and Database Administrators
---
---
What is ProcessTools in a nutshell?
ProcessTools for Microsoft Access provides a wealth of well needed development tools as an Add-In to the current Microsoft Access Software.
ProcessTools is a single Microsoft Access Add-in, packed with features that runs directly in your Access desktop environment with some of it's many features extending into your Access VBA/VB6 IDE (editor). All of ProcessTools features were designed specifically for the needs of Microsoft Access professionals.
Easily create better Microsoft Access applications with less time spent hunting faults and formatting forms, tidying code modules or locating for your favourite code routines. With ProcessTools Access AddIn, manage more databases professionally.
Free for 30 days. No registration required. If your interested in purchasing the current version of this software you will only be out of pocket $10 USD + tax if applicable. Purchase your copy of ProcessTools
Current ProcessTools Version
Currently, this Access Add-in software is in BETA phase.
These tools to the best of our knowledge function correctly based on our testing. We accept all feedback so let us know of any faults, issues or otherwise and we will promptly work towards creating a better product.
Will ProcessTools work with my Access version?
Works in conjunction with Microsoft Access 2019, 2016, 2013, 2010, 2007, 32 and 64 bit versions.
ProcessTools - Access Developer Tools
Code Library
It can be frustrating hunting for that helpful procedure you used the other day or trawling through modules to pinch that useful code loop. Keep your code close and managed by using the ProcessTools Code Library Add-in.
Examlple of the ProcessTools Access Add-In Code Library (Code Repository)
Code Library is our go to source for in house code storage. Complete with a small in-built search engine the Code Library can house all of your useful code and every field is searchable including a handy tag column.
Select the Code procedures you want and load them all directly into the module of choice! Fast, efficient and effective code loading.
Control Checker
A tool for scanning all or a selection of forms for controls with missing Icons, Tab orders, Access Keys and checks for default Access control names. Not only that but the Control Checker also checks the forms for missing ribbon controls, Toolbars and Menu-bars. Useful for catching those hard to find issues.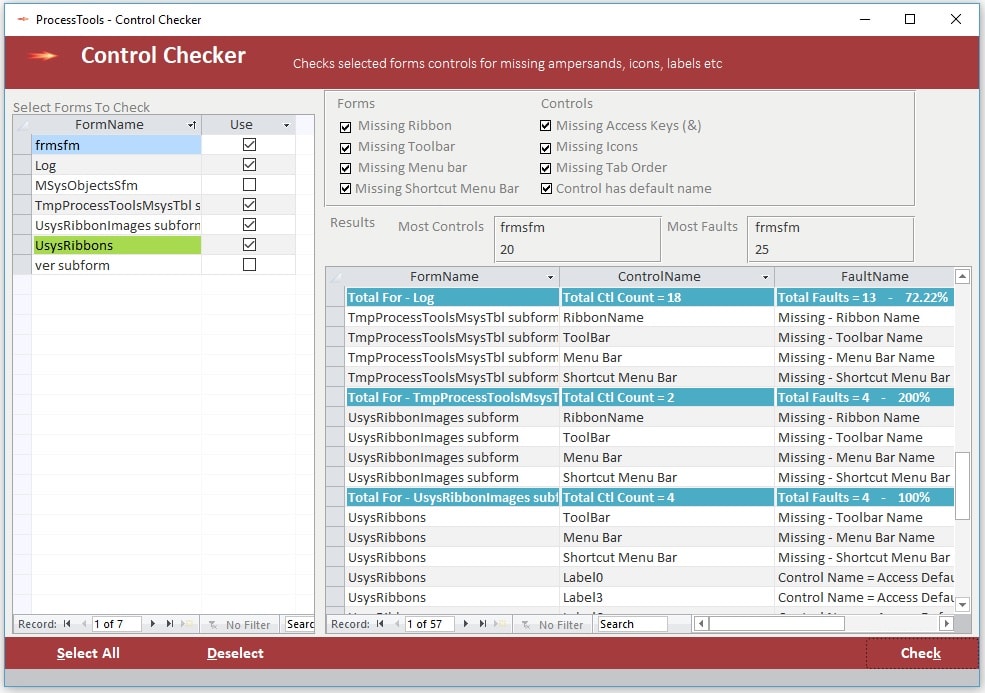 Examlple of the ProcessTools Access Add-In Control Checker
Edit Timer
Occasionally you may need to know how long you spent perfecting the layout of that form or report. ProcessTools includes the Edit Times Tool for tracking open forms or reports in design mode. It includes an auto detect feature for checking open design mode forms and reports for any given time interval. (Not recommended while in a VBE environment).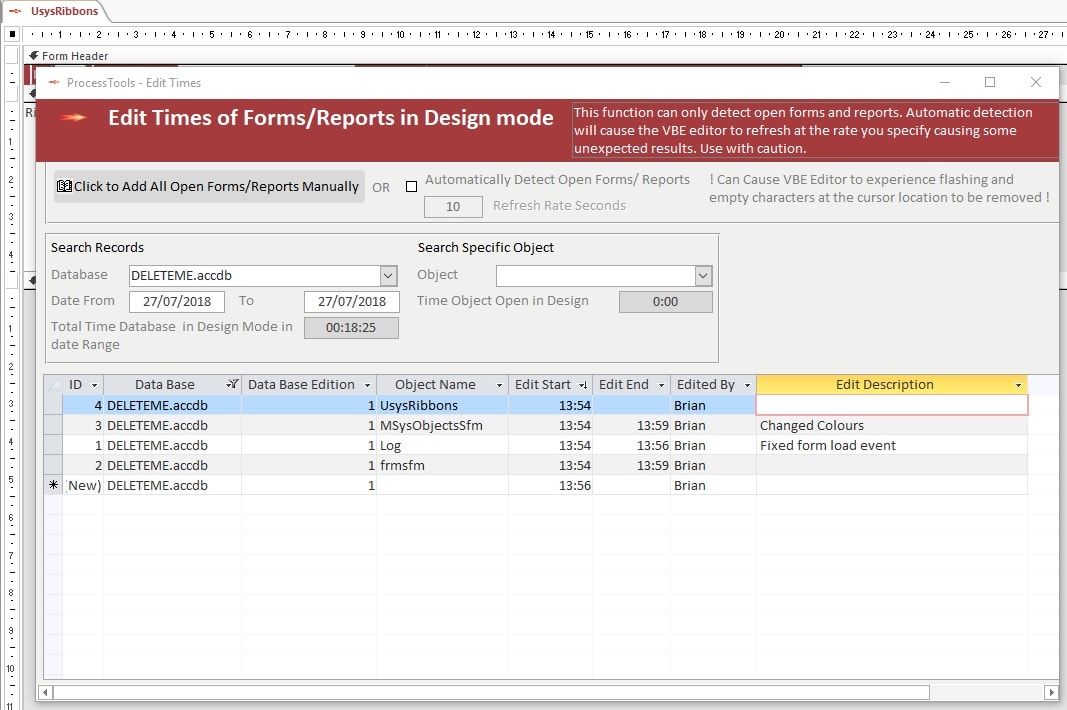 Examlple of the ProcessTools Access Add-In Edit Timer Tool
Error Log
Opening this tool automatically adds the Log Table for managing errors throughout your application. Use the Attached code in each procedure to automatically catch errors and display them here with double click go to line functionality.
Form Styles
Bulk update all of your forms or perhaps only a select few with a new colour pallet or perhaps you need all of your labels right aligned. Form Styles is the tool for you. Add a logo to every forms header, set the font style of just your Forms Title or perhaps make every label bold, green and italic. Save your settings as a Template for later use in this or another database.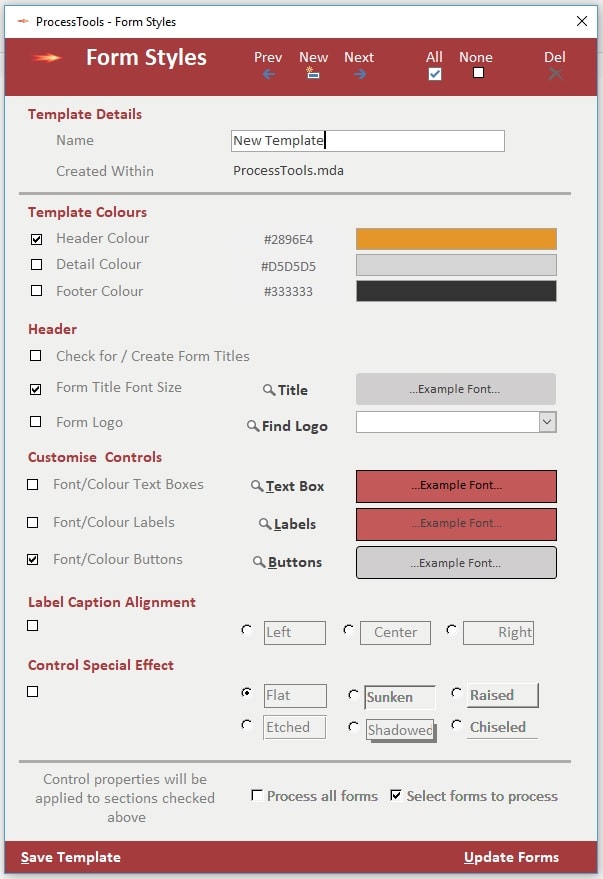 Examlple of the ProcessTools Access Add-In Form Styles Tool
Icon Picker
An image speaks a thousand words and you now have all of your favourite images at the click of a button. The Icon Picker displays all of the Microsoft MSO images in a large, easily recognisable format. Including a useful selection tool for holding those images that you like but can't decide which to ultimately go with.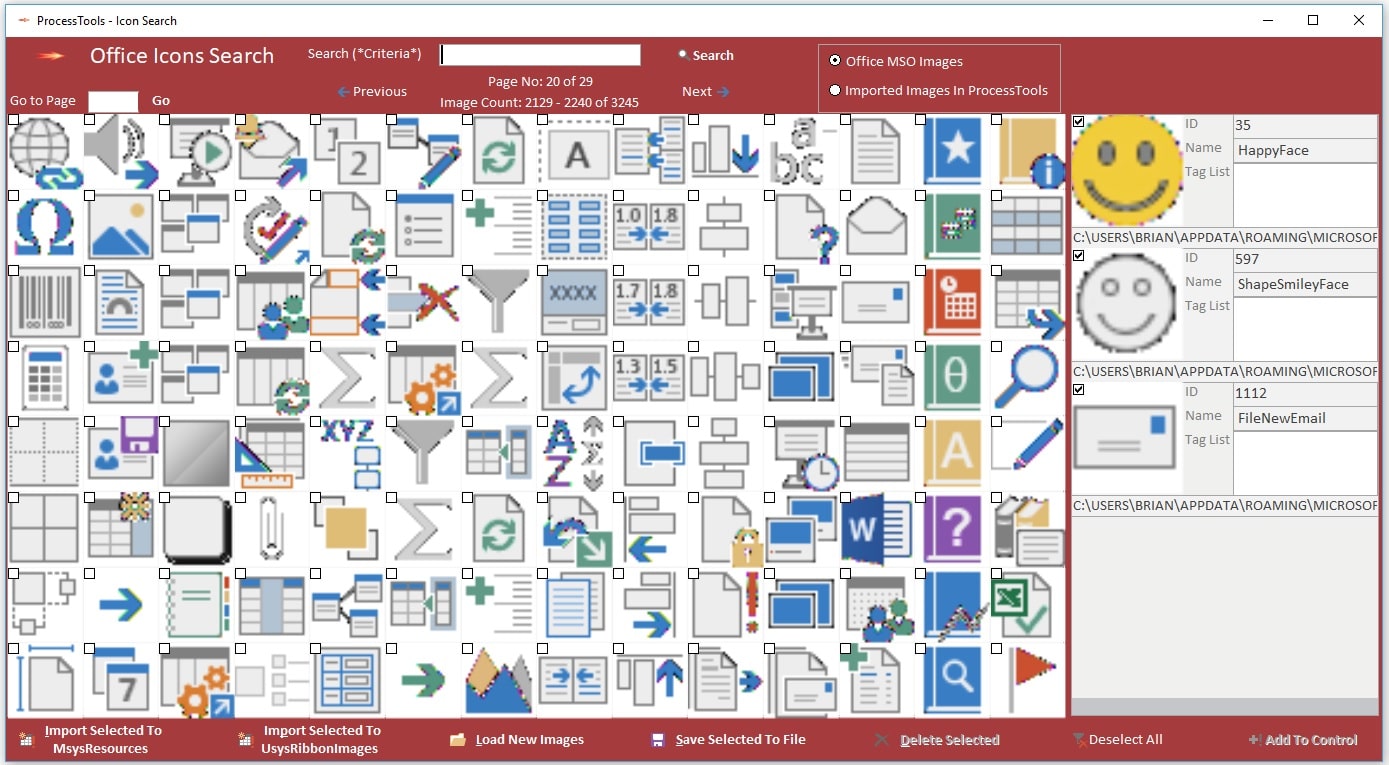 Examlple of the ProcessTools Access Add-In Icon Picker Tool
Import your own images into the icon picker and use them on your buttons, ribbon controls and forms or reports. Import your preferred images to MsysResourcesTable, UsysRibbonImages Table or Save your images to File.
Complete with inbuilt Search Tool and Image Tagging ability.
Navigation
Is the Access Navigation bar in your way? Perhaps you're not a fan of scrolling to find your queries? ProcessTools Navigation tool is a small but powerful floating navigation screen. Dockableto you screens wall, includes an in built search tool, show or hide hidden objects at the press of a button. Show the last 10 recently opened items at the top of the list. Open the SQL editor Window from a single button click or close every open object Modules included with the close all button. Closing the Navigation tool returns the standard Access Navigation bar.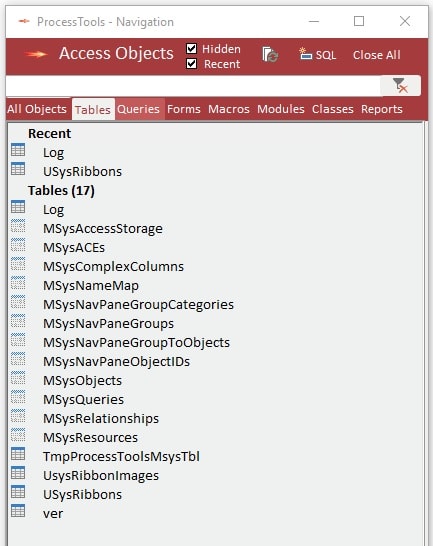 Examlple of the ProcessTools Access Add-In Navigation Tool
Open All Forms / Open All Reports
A handy one click feature that also has the counter part of closing all forms and reports.
Ribbon Editor
Feature packed this ribbon editor tool is able to create new Ribbon XML, Insert Tabs, Groups and the most commonly used controls. Edit exiting controls including adding icons from either the MSO collection or an imported image. Edit front and back stage controls. Move controls about within group controls and move group controls within the confounds or their parent Tabs. Displays Available Key Tips for your control and for your current Tab.
XML Cleaner is also included, which
scans your XML for Text outside the bounds of the XML document.
Finds duplicate ID values and Key Tips.
Checks controls for attributes that are not acceptable for the control.
Formats the XML to single line entities,
Indents XML to a specified indentation.
If selected, can remove comments.
Updates control attributes with invalid Capitalisation.
Search All
Searches all Forms/ Reports/ Queries and Modules for a given Search Term. Includes a replace feature and a new replace Preview feature which previews the replacement allowing you to confirm the update before it happens.

Examlple of the ProcessTools Access Add-In Search All Tool
Search Not In
Occasionally we have needed to identify procedures where a line of code does not exist. Born was the Search Not in tool.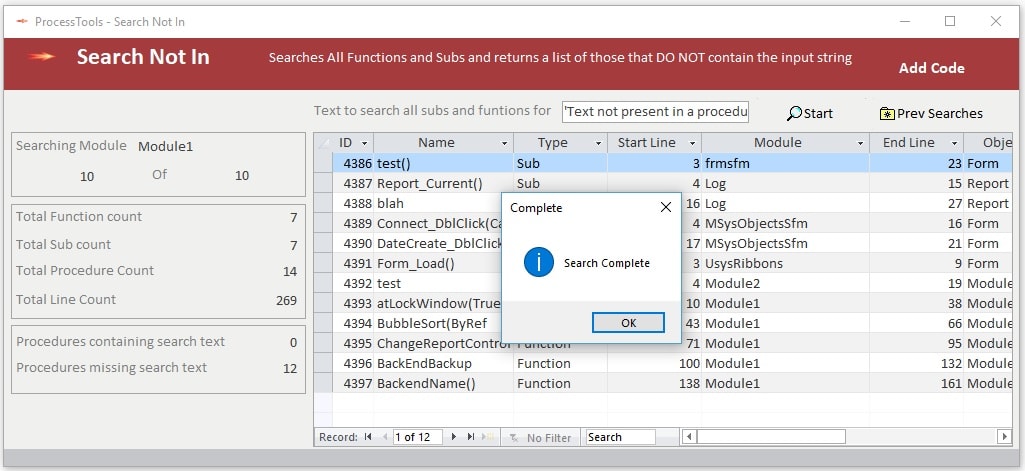 Examlple of the ProcessTools Access Add-In Search Not In Tool
Common search terms are stored in a Previous Searches Table. The power of this feature becomes apparent when you use the Add Code Tool. Here you can add your code to each of the procedures found in the search at the top or bottom of the found procedures.
Subform Columns Double Click
Adding a Double Click procedure to every column of a spreadsheet can be tedious so we have a tool to make this process less of a hassle. Columns that already have double click functions are highlighted in green.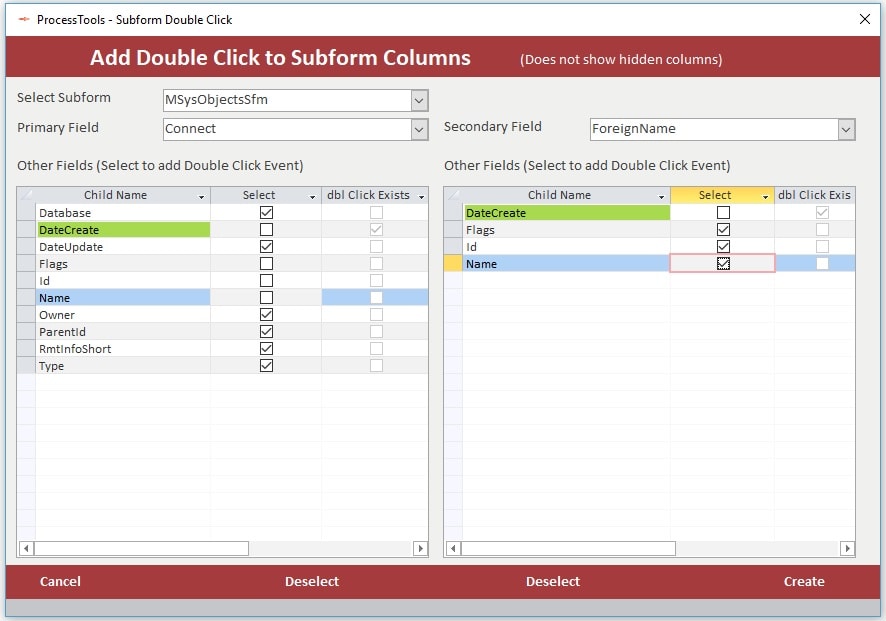 Examlple of the ProcessTools Access Add-In Subform Columns Double Click Tool
Here we can specify a primary field and allow all of the other fields to call that primary field and do what ever code is nested within it's procedure. An optional Secondary column is provided if you want some columns to call a separate procedure when double clicked.
Tab Control Nesting
If you are building a tab control that includes datasheets on more than on of the tabs then this feature can be used to set each datasheets dimensions and location. This assures that each of the datasheets are aligned identically and are of the same dimensions across each of the tabs.
Variables Rules
How you define your variables is important and allows for a fast, accurate understanding of the procedures you are reading. Here is a tool that finds variables that do not meet your standards. Simply add the prefix you apply to your variable rules and then select which module, or all modules, that you wish to check.
VBA Remove Blank Lines
Tidy up your VB code by removing all those pesky blank double lines. For every set of 2 blank lines one will be removed. Very Tidy.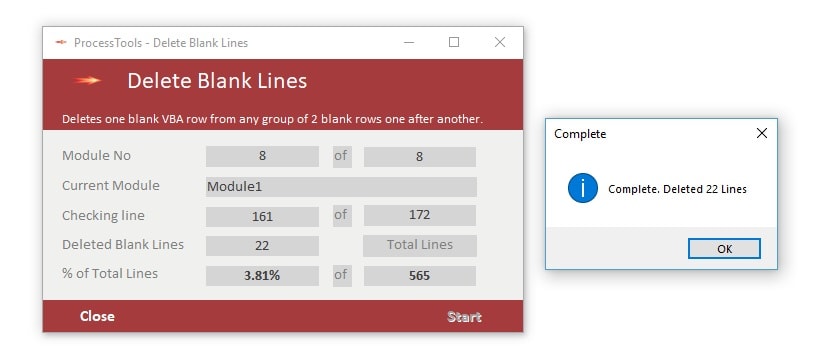 Examlple of the ProcessTools Access Add-In VBA Remove Blank Lines Tool
Other Hidden Features.
Right Click Command Bars in several location throughout Access have additional buttons.
SQL Editor
Right Click inside your SQL Editor window and select "ProcessTools SQL for VBA". This takes your SQL string and converts it into a VBA string and holds this value in your clipboard for you to paste where required.
Form in Design Mode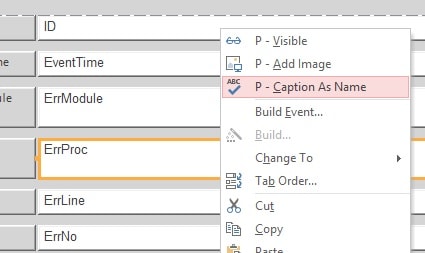 Examlple of the ProcessTools Access Add-In Right Click command bar functions
Visible Right Click a control on a form in design mode and Select "P - Visible". This flips the visible state of the control. Some controls will turn orange to indicate they are not visible.
Image Some controls can accept images and this tool allows you to select an image from the Icon Picker tool and set the controls image to your selection.
Caption as Name Adds the Controls Caption as the Controls Name removing spaces in it's name.
VBE Editor
ProcessTools Opens the ProcessTools Switchboard.
P – Line Numbers this Module Add line numbers to this module.
P – Line Numbers All Modules Add line Numbers to All modules.
P – SQL Editor Immediately open the SQL Editor.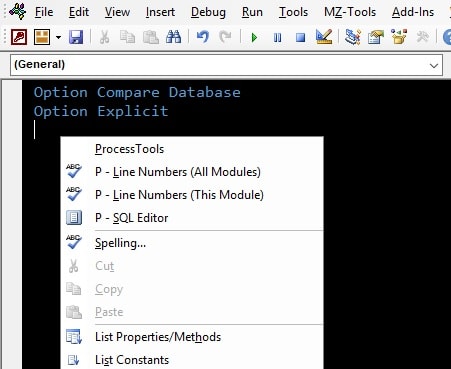 Examlple of the ProcessTools Access Add-In Right Click command bar functions in a VBE Editor
---
Document Manager
ProcessTools now has a feature for storing document links. Each link record can store the Document type, Description, version and of course the link itself. Double clicking on the links opens the file and a verify file locations button checks the integrity of the links. Now you can locate all of your work flow diagrams, database files, text files and client documents in one easy to manage location.
---
Purchase ProcessTools Microsoft Access Add-in
Purchase your license of ProcessTools with the button below for just USD$10.00 (plus tax if required).
Please retain your receipt number and enter it into the payment screen within the ProcessTools Add-In.
Purchasing ProcessTools from within the Add-Ins Payment screen will automatically unlock your application from the trial. However purchasing from any other means may take a few days to process. Once processed your ProcessTools Access Add-In, if connected to the internet, will activate automatically.
---
How Do I Install the Latest Version?
Simply download the free trial copy of the Latest Version of ProcessTools Access Add-in here.
Once downloaded, unzip and install.
If the new tools don't appear in the Access Add-in Dropdown then select ProcessTools from teh Add-in manager within Access - Database Tools Tab select ProcessTools From the List and select uninstall followed by clicking the Install button to reconnect the new ProcessTools version.
The new installation will provide all the latest features without effecting the bulk of your data. Currently only the Edit Times information and Stored Ribbon Images within the ProcessTools application will be lost during an update to a new version.(To be rectified in a later version)
---
ProcessTools Microsoft Access Add-In Version Release
1.003 - New feature - Import / Export Forms/Queries/Reports/Modules/Macros/Tables as text
1.000 - Alteration to start up routine and the removal of a non compliant reference
0.006 - (BETA) New feature - Document manager - Storing links to database related documents
0.005 - (BETA) Altered version checking code to also inform the user of minor updates, Reworked Payments
0.004 - (BETA) Late bound references and added new features to Application Details and Control checker.
0.003 - (BETA) Crash fix for some users on first use.
0.002 - (BETA) Installation fixes and minor functionality tweaks.
0.001 - (BETA) First Release.
---
Contact us with your questions - We will attempt to reply to all...
System Requirements:
OS: Windows 10, Windows 8.1 / 8, Windows 7, Windows Vista.
Free Hard Drive Space: ~21MB
Microsoft Access 2010, 2013, 2016 or 2019 -full version.
---
ProcessIT Limited is a Registered member of:


---