ProcessIT Home > Solutions > LEADS
LEADS- Contact Relationship Manager and Sales Prospecting
Update your Current Subscription
LEADS - is the best solution to ensuring your Business's Sales growth and future.
Download your own copy of Leads Now.
Current Version: 3.010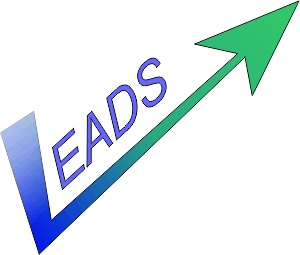 Use LEADS to identify, track and manage your relationships with existing Customer and Contacts as well as Potential Customers. Avoid the making the dreaded cold-calls -instead be referred to by your close associates or centers of influence! Record all Companies of interest as "Suspects" in the LEADS database. Then have LEADS send an Automated "Referral Request" by email to your Centers of Influence seeking an introduction to the Suspect Companies. Once referred, it's up to you to Make The Sale...
LEADS is a Contact Relationship Manager, designed to manage your existing contacts and Potential Future Customers. It keeps track of your efforts to communicate with business' and organisations of interest. LEADS software gives you the ability to define categories and Classify your individual Contacts/ Customers / Lead into these so you can mange your "Key Accounts" or target your "Potential New Sales."
Record Activities for each Contacts/ Customers / Lead and assign these to staff for action and track all incoming contact from these too. Set Due Dates and completion Dates for later analysis of staff performance. Produce Reports for your Activities, Customers and Staff-Lead-tracking.
The Leads database, once downloaded is Centrally Located, available through your local network, simultaneously to multiple users each with their own staff account details.
You'll be amazed at the time and effort saved, how quickly results are produced and the simplicity of managing your LEADS and growing Your Business!
Track Potential Customers: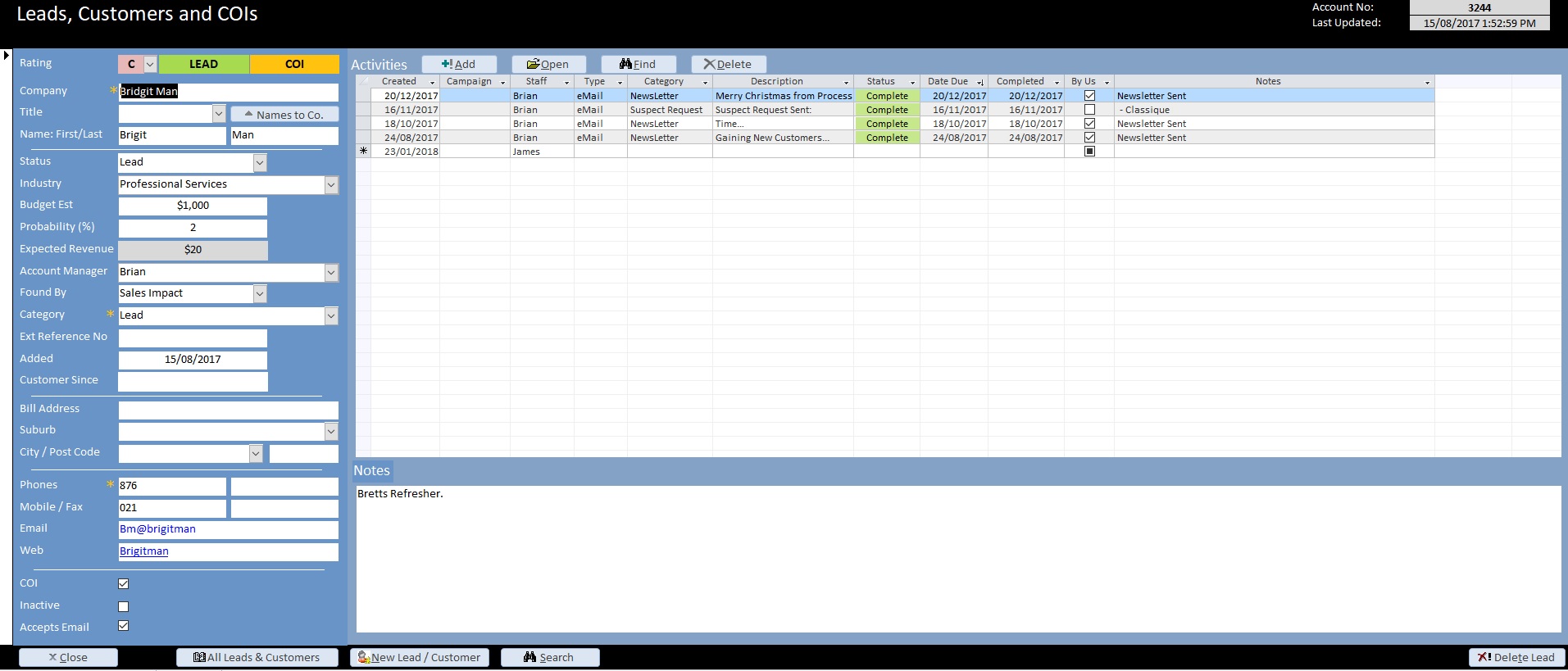 Did you notice a new Business while out recently? See the Logo of another on a Car passing you? Simply add these names to LEADS "Suspect" list -Businesses that may become you new Clients or Customers.
Seek Referrals: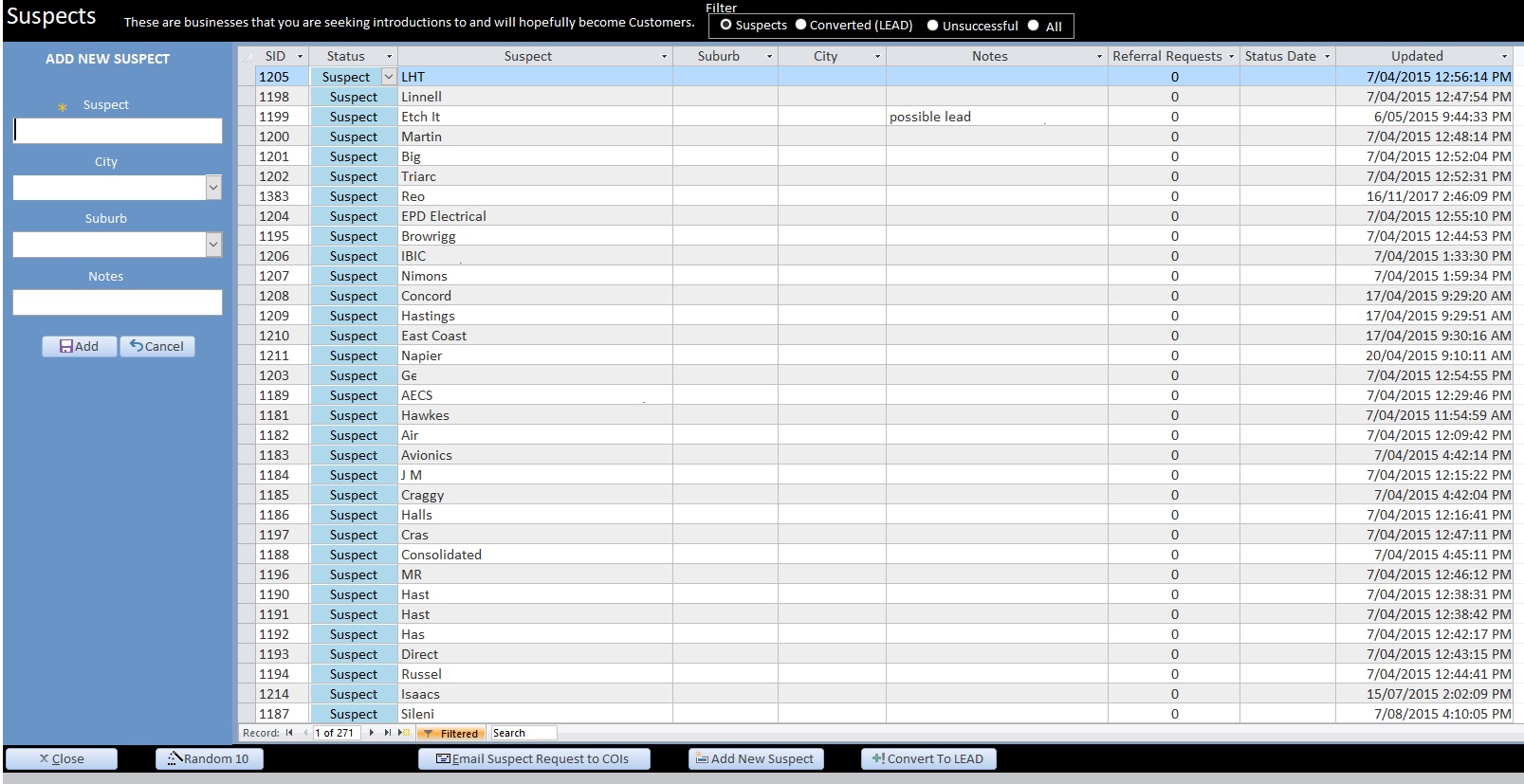 LEADS will automate the sending of Referral Requests to your Close Associates or "Centres of Influence". A single click will automatically email all your "Centres of Influence" with your preconfigured message and a random list of suspects to whom you are seeking introductions - it couldn't be easier!
Never Again Miss a Promised Call: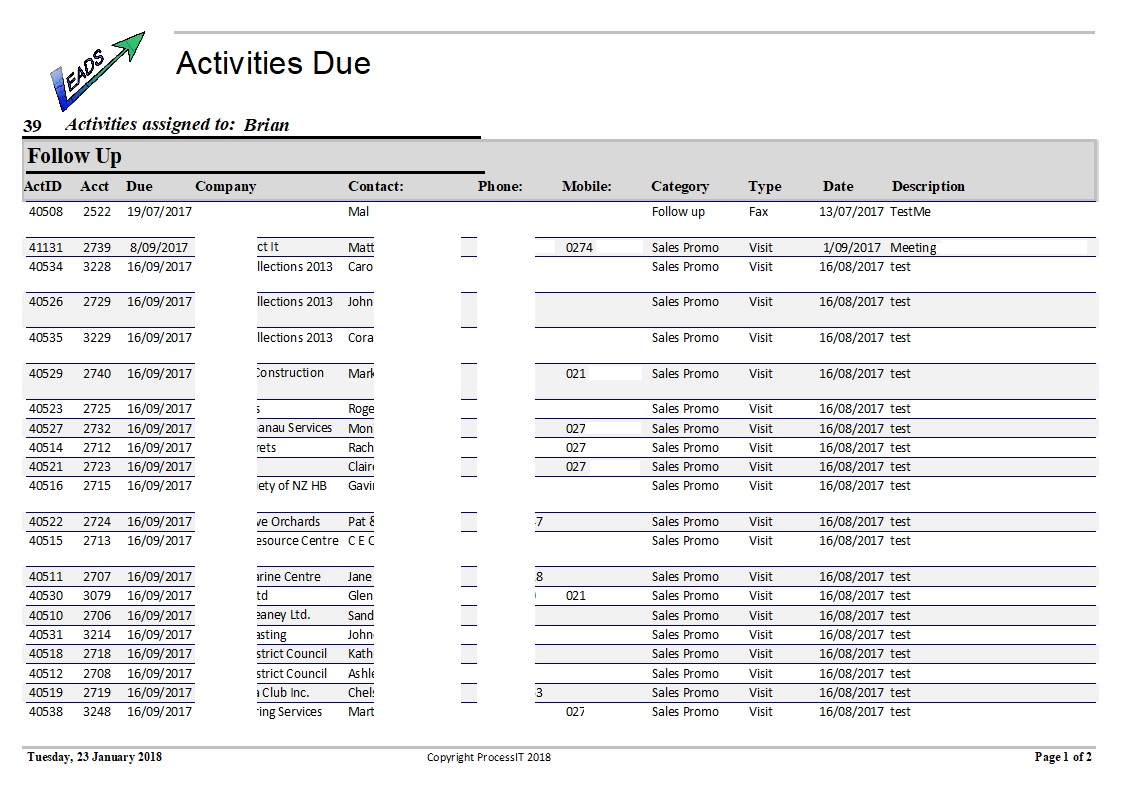 Talked to a Client or Customer and told them you will call back in 2 weeks then FORGOTTON? Arghh! This makes you look very unprofessional and disorganised and worse, may even result in the loss of a customer and their lifetime of revenue. LEADS will manage all your reminders -simply locate your Customer and add a new Activity to Phone them to complete the sale. Set the Due-Date and leads will prompt you that day to make the call! No answer? Make a note and reset the Due-Date to the next day.
Target Sales Opportunities for Your Staff:
Run a search in LEADS by Customer Category for your selected Target category -e.g. "Small Volume Customers". For each Customer in the results list, add a new Activity and assign these to a selected Staff member to action. Set the Due Date and monitor their progress... Watch your sales grow...
Create and Print Reports:
You have 100 LEADS and want to know what ones have Activities Due right now! We have you covered. Preview and print Reports for you and your staff, organised by staff member and the Activities most Urgent you can easily track who requires attention first.
Send Automated Personalised Newsletters:
We all know you must stay in contact with your Customers and Contacts don't we? But it is so hard to manage, that few of us bother! Now LEADS makes sending your Newsletter painless! Simply type your newsletter in a normal Microsoft Word document add images if needed, then add a few simple merge fields for LEADS to replace with things like your contacts Name and Company. Save it, Point LEADS to it and hit send. LEADS will Merge the document with the Client List and send each a Personalised email using Outlook.
Will I need training? / Is it hard to use?
No! LEADS has been designed with a minimal learning curve and simplicity in mind. You will very quickly be proficient in it's use.
Great, I need it! Where do I get LEADS?
Just click here to Download your copy of LEADS - LEAD Tracking Software, the solution to ensuring your business growth and stability. The Download is Free.
The LEADS application can be used straight away for 10 days guilt free, but if you wish to continue to use LEADS then monthly payments per user are required:
Contact us with your questions - We will attempt to reply to all...
System Requirements:
OS: Windows 10, Winows 8.1 / 8, Windows 7 (32 or 64bit), Windows Vista
CPU: 900MHz or faster.
Free Hard Drive Space: ~20MB
Microsoft Access 2013 or higher -full version or Free Runtime
- Download the FREE Access 2013 Runtime
Word 2013 for Newsletter editing and Outlook 2013 for sending

ProcessIT - Business Custom Software Solutions